Sale flow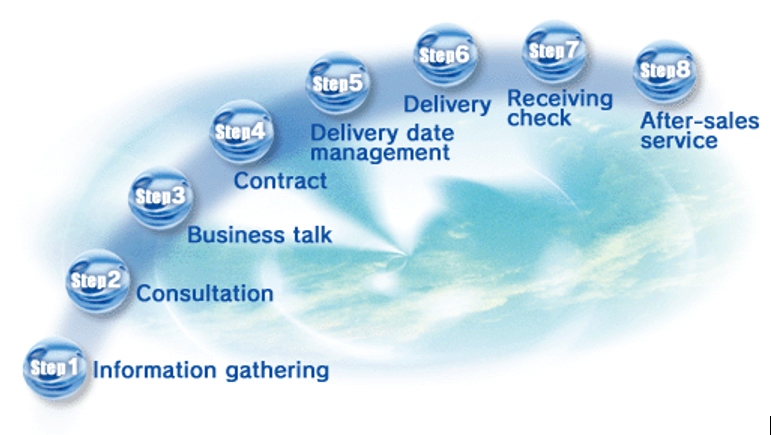 As your best partner, we work hand-in hand with you from the beginning with primary consultations and follow through to the end with after-sales support.
At the cornerstone of our operations lies the question, "What is it that our customers are really looking for?".
We place great value on close communication in order to form tight relationships with our clients in order to provide the best solutions in terms of cost, specification, environmental performance.
After installation of devices and machinery, we responsibly support up to and beyond the full operation.
STEP1   Collection of Information
We always strive to collect up-to-date world wide information and data gathering to meet the latest customer's needs.
STEP2   Consultation
When asking the new needs of our customers, we offer and find the most suitable product that meets their requirements.
STEP3   Business Talk
When our propositions match the needs of our customer. we proceed to discuss specification and pricing and do our best to minimize costs.
STEP4   Contract
e provide a detailed contract with our customer after we have total agreement of our client.
STEP5   Management of appointed date of delivery
From hearing our clients needs, to placing the order to the manufacture, to managing the appointed date of delivery, each order is closely managed to ensure quality customer service.
STEP6   Delivery
Appointed date of delivery is strictly managed. We strive to meet delivery on appointed dates as agreed upon from the customer.
STEP7   Confirmation
We provide thorough teaching and support for equipment up to full operation training and manage guidance of all specification requirements.
STEP8   After sales service
We continue to provide close after sales service following delivery of goods.